(Portland, Ore.) ScanlanKemperBard (SKB), a Portland-based real estate merchant bank, in a joint venture with Artemis Real Estate Partners, today announced it has acquired a nine property, ground floor retail portfolio from Hoyt Street Properties in Portland's famous Pearl District. This is the first sizable ground floor retail assemblage in the Pearl District.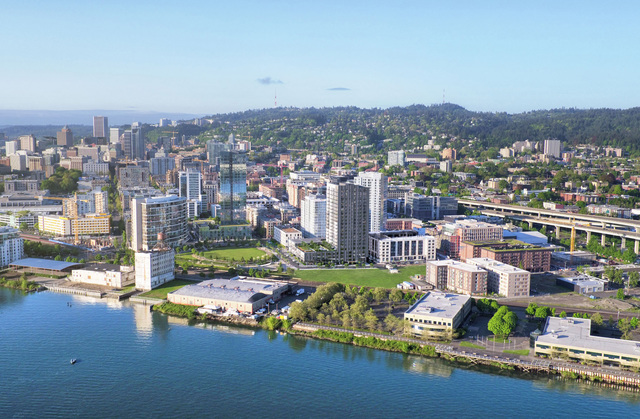 The high-end retail condominium assemblage is located in the Pearl District, which is recognized nationally and globally as "one of the most successful urban redevelopment projects in the industrialized world" according to China Development Bank Capital http://energyinnovation.org/wp-content/uploads/2015/11/Pearl-District-Case-Study.pdf.
The Pearl District retail assemblage consists of 86,445-square-feet of prime retail condominium units in nine separate but adjoining blocks that are currently owned by Hoyt Street Properties. The properties are 94% leased.
Hoyt Street Properties is the premier luxury condominium developer in the Pearl. The portfolio includes Park Place, The Lexis, Bridgeport, The Streetcar Lofts, The Metropolitan, The Encore, Riverstone, Tanner Place and The Pinnacle. Hoyt Street also developed The Cosmopolitan and is under construction on the 143-unit Vista.
According to SKB President Todd Gooding, "The Pearl is home to more than 7,000 residents and 12,000 employees, growing at six times the city average, and will add 4,600 multifamily units and 1,250,000-square-feet square feet of office space in the next five years."
SKB Senior Vice President John Olivier said that, "we went to Hoyt Street Properties with this proposed assemblage and are very excited to become one of the largest owners of Pearl District retail."
"Artemis is a big believer in the long-term fundamentals of Portland and is very excited to partner with SKB on our first transaction together. The Pearl District retail assemblage will prove to be a tremendous addition to Artemis's portfolio, and we look forward to adding more urban retail assets to this assemblage," said Artemis Managing Principal Rich Banjo.
Assisting SKB on the transaction was Debbie Thomas Real Estate, who is representing SKB in leasing the portfolio.
About the Pearl District The Pearl is widely regarded as one of the most successful urban redevelopment projects in the country. It features numerous public transit options, urban parks, eco-roofs, and green buildings that are all densely packed into an area of approximately 245 acres. The Pearl, located just to the north of Portland's Central Business District, has been in a constant state of construction, redevelopment and growth for over two decades, with the most growth experienced since 2008.
Originally developed in the late 1800s as warehouses and rail yards, the Pearl's most recent reincarnation established it as an excellent example on how to convert a virtually blighted area into an upscale urban blend of easy living, working, playing, commuting, shopping, dining, entertainment, walkability (like gallery walks), theatre, safe biking, European streetcars and light rail, and lodging.
About ScanlanKemperBard SKB is an established real estate merchant banking firm based in Portland, Oregon. Since its inception in 1993, SKB has originated total portfolio activity of $3.9 billion, including equity invested of $1.38 billion, comprised of 27.3 million square feet of office, industrial and retail space and 2,055 residential units plus hospitality in 2014. With longstanding relationships in each of their markets, SKB has the ability to source, structure and execute value creation across a wide spectrum of real estate opportunities.
About Artemis Real Estate Partners Artemis Real Estate Partners is an investment fund manager based in Washington D.C., New York City and Los Angeles. Artemis manages approximately $2.5 billion of discretionary capital on behalf of institutional investors across value-add, opportunistic and core-plus strategies. The firm makes both equity and debt investments across the domestic United States, with a focus on apartments, office, industrial, retail, hotel and senior housing. Artemis specializes in joint venture partnerships and direct investments. More information can be found at www.artemisrep.com.